Put your nerd on
Can a $60 microphone go head-to-head with your best name-brand condenser?
No, of course not. Don't be ridiculous.
Then again, what if you replace all the substandard parts in that $60 microphone, and introduce a fundamental change to the circuit, so that the formerly cheap mic has a premium capsule, audiophile-grade components (including unobtanium transistors), and excellent specs for transient response, sensitivity, and self-noise?
It's not a hypothetical question. We've just introduced a "mod kit" for the MXL 990 and MCA SP-1. The circuit modification was designed by Jim Williams, who owns a fleet of SP1s. The kit represents the latest evolution of Jim's transformerless circuit design. Click the image below to read more about the new mic mod kits from Microphone-Parts.com.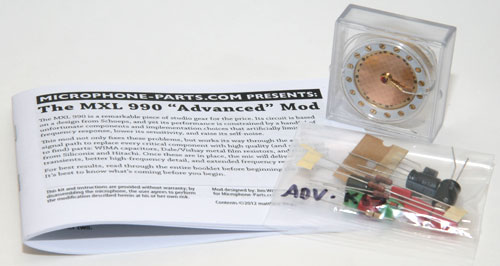 By the way, if you enjoy DIY pro audio, you might wish to subscribe to the new Microphone-Parts newsletter, which will give you access to limited-run products and private sale pricing. See the subscription widget on the Microphone-Parts.com homepage.